Important: Sideline Pro accounts cannot send invites, as Pro and Team Number accounts are incompatible at this time.
To help keep everyone connected in your business, you can send as many invitations for your Team Number as you'd like.
Since Sideline does not allow multiple accounts per device, you can only send invitations to those who do not have an existing account as an individual or Team. They will need to close their account if they decide they want to join your Team Number.
Sending an Invitation
Note: Landlines cannot be invited to join a Team Number account. While you are able to send an invite to a landline, the invite will be stuck as 'pending' since landlines cannot accept the invite link (only true cell numbers can)
The user with the Sideline account (that includes the number you wish to be shared with multiple people) will need to send the invitation. Here's how:
Sideline Settings
Tap 'Team Number' (and tap 'set up' if you are new to Team Number)
Tap 'Invite Member'
Choose the contact (or enter the cell number) you wish to send the invite to

Note: If you receive an error at this point, please visit this article to understand the steps you're recipient will need to take before you can continue the invite process.

A pop-up 'Add to Team Number' will display > Tap 'OK' (or 'Cancel' if this was done in error)
You'll then see 'pending' noted next to the contact name or number indicating that your invite was successfully sent
Note: The recipient of the invite will stay 'pending' until they are able to successfully accept the invite (steps are seen below).
Accepting an Invitation
Please share these steps with the recipient of the invite in order to have them successfully accept the invite and be added to the Team Number account.
The recipient of the invite will get a text message to their cell number which includes the invite link with instructions (pictured below)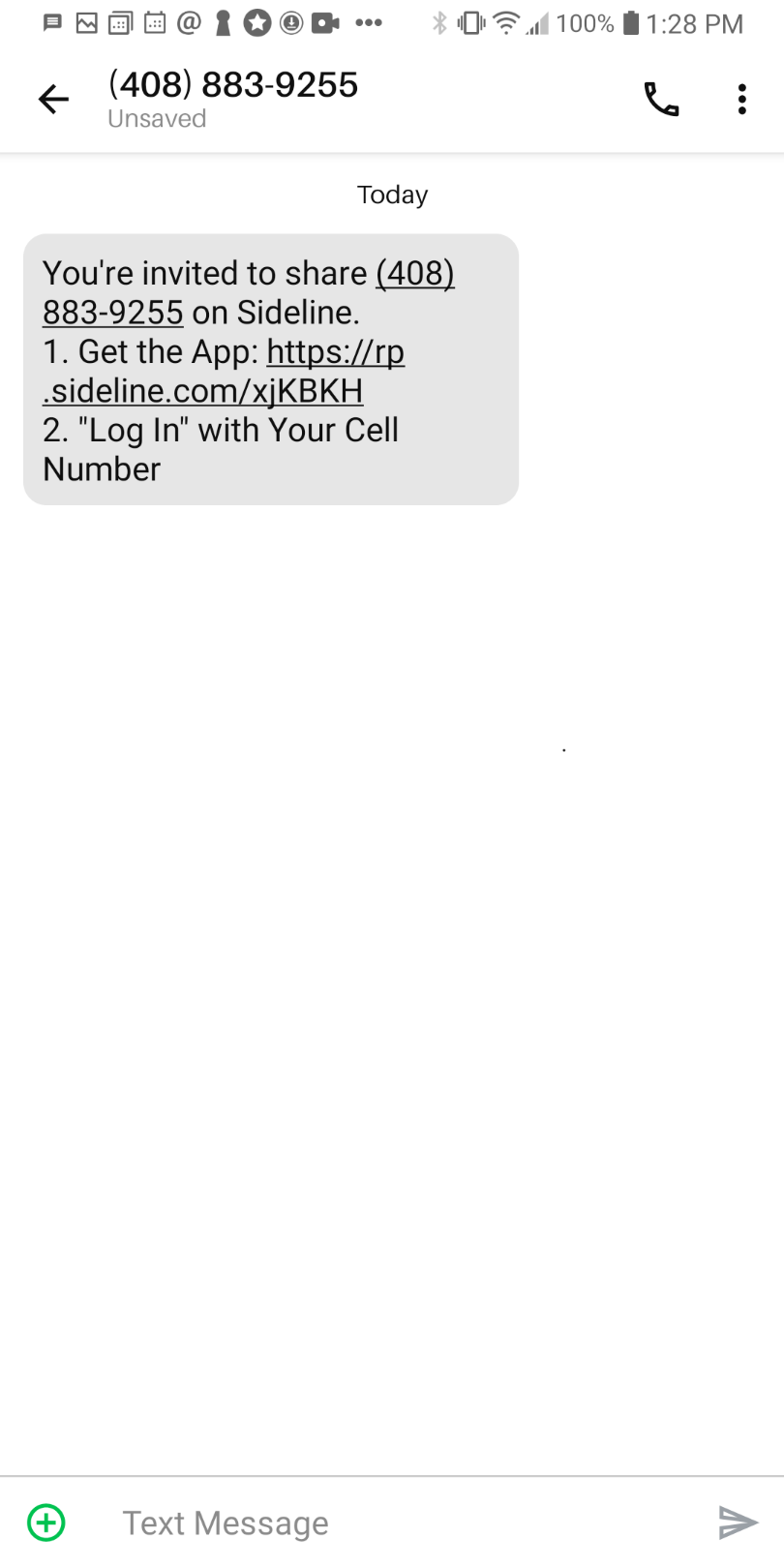 Instructions:
Tap on the 'Get the App' link
You'll be taken to your app store to download Sideline
Once downloaded, open Sideline and tap 'Log In' (do not create a new account)
Enter your cell phone number in the number field
Create your own personal password (the password should not be shared across multiple devices)
Note: If your team member registered first and chose a Sideline number before they received your invitation, not to worry. As soon as your colleague clicks the invite link, your Team Number will automatically replace the number they chose when they registered with Sideline.
If you need further assistance, please submit a request.