To help keep everyone connected in your business, you can send as many invitations for your Team Number as you'd like.
*The first thing to keep in mind is, since Sideline doesn't allow multiple accounts per device, you can only send invitations to those who do not have an existing account as an individual or Teams. They will need to deactivate their account if they decide they want to join your Team Number.
To get started, go to your Sideline settings and tap Team Number
When sending an invite, you will be asked to choose from your Contact List. If the person you'd like to invite is not in your Contact List, please add them now.
Once you choose a contact, you will be asked to confirm that you want to share your number with that person.
After tapping Ok, that person will receive a verification text to Accept the invite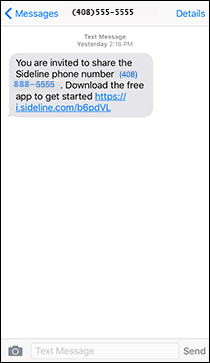 You will see the status of your invitation below. Once the invitation is accepted, it will change from Pending to Accepted.
Note: If your team member registered first and chose a Sideline number before they received your invitation, not to worry. As soon as your colleague clicks the invite link, your Team Number will automatically replace the number they chose when they registered with Sideline.
If you have any questions or experience any trouble, please let us know and we'd be happy to help.