If at any time you are receiving harassing messages or no longer want to be contacted by someone on your Sideline number, you can place a block via Sideline Web (or via the app).
Important:
If you need to block a
group conversation and/or private, restricted, or unknown numbers
, please reach out to
support team
and we can further assist you since these types of blocks
cannot
be handled through the Web or app.
Note: We cannot block a specific area code, only specific numbers.
To place a block via Sideline Web:
Tip: Take screenshots of the offending text message(s)/calls BEFORE you block a number/contact. We cannot export or send copies of your message or call history before or after blocking a number so please be sure to save any info for your records.
Log into

Sideline Web.
From the inbox, locate and hover over the contact or number you wish to block from your conversation list.
Press the

to display the options, then press Block Number.
A pop-up will appear with the option to Block (pictured below).
Confirm the block by clicking on the red 'Block' button.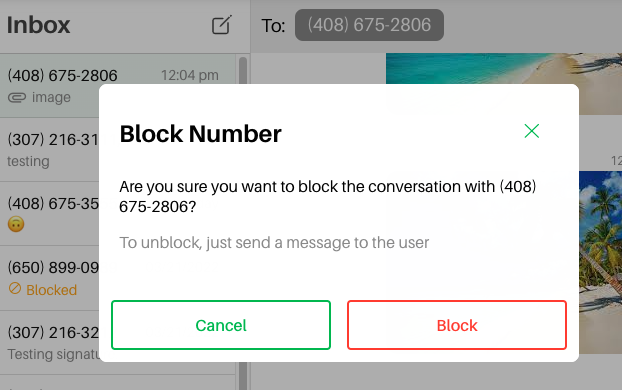 If you need further assistance, please submit a request.