Do you have a special phone number or business line that you would like to use with Sideline? If so, you can easily port your existing number into Sideline.
Porting is the term used for transferring a phone number from one service provider to another.
Below you will find some general information about the port-in process, and step-by-step instructions about how to port your number into Sideline.
General info before you get started:
There is no fee to port your number into Sideline
Only one port-in request can be active at any given time
You can only port a U.S. number into Sideline
Once you port a number into Sideline, you have to port that number out of Sideline before you can port another number in
Do NOT cancel your current service plan before your number has been successfully ported
You must first choose a Sideline number before you can port a non-Sideline number in

Choose any number for the meantime while you wait for your number to be ported in
Tip:
Check out our
Guide to Porting your Number
to see what information you'll need from your service provider to successfully port your number into Sideline.
After you complete the steps involved in porting your number, our service provider, Bandwidth will check to see if your number is available to port.
There are three possible outcomes to this process:
Can my number be ported in?
Before we can fulfill the porting process, we need to verify you own the telephone number you're trying to transfer. To do this we need some information about your account.
Note: Toll-free/1-800 numbers cannot be ported into Sideline.
1. Your number can be ported
Once we are able to validate the number you are trying to port, you will be asked to provide specific Carrier account information in order to move forward with the port-in process.
You can find the list of information you will need from your Carrier in our help site article: Guide to Porting Your Number
A PIN is not required for landline numbers
Note: The process can take about 3-5 days to complete. We'll notify you when the transfer is complete.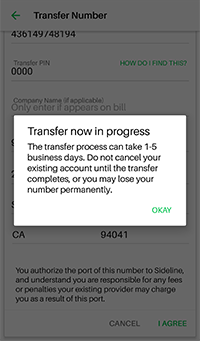 2.Your number cannot be ported
If your request was rejected by Bandwidth, you will see a message that says "Sorry, we can't transfer this number" or that it has been canceled. Unfortunately, this means that there is no way we can port your number into Sideline.
3. Your number can be ported, but you're going to need some assistance from our Support team
You will see a "Needs Review" message. If the port has been pending for more than 1-5 days without an update, please contact us so we can investigate further.
Once you've successfully completed the number porting process, you can check the status of your number transfer on the Settings page of your Sideline app (status is located to the right of the 'Number Porting' field - pictured below)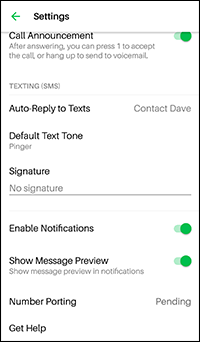 4. Your number can be ported, but you're currently on a Team Number account
Porting in your existing phone number to Team Number requires that you first opt-out of your current team number so you can start over fresh with a new Individual account.
From there, you'll be able to port in your number and re-invite your team members back. For the complete instructions, check out our article: Porting into Team Number.
If you have further questions about the porting process or need more information, check out our Porting FAQs, or reach out to the Sideline Support team by submitting a request.