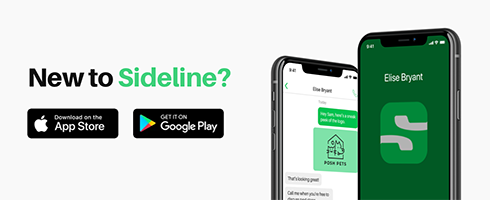 This article is for help with setting-up auto-reply within the Sideline app. If you need more information on auto-reply for iPhone, please visit Apple Support.
Auto-Reply is a feature within Sideline that will automatically respond to incoming texts with a custom (or default) response when you are unavailable.
This is beneficial because it shows your friends, family and/or customers know that you received their text and that their message is important to you!
To Turn Auto-Reply on:
Tap the Settings icon at the top of your inbox.
Once you're on the Settings page, tap Auto-Reply to Texts located in the middle of the screen.
*Make sure to toggle the button to Add a Custom Reply
Once you enable Auto-Reply, you will be directed to the following page where you can add a personalized message and even add your business logo!
Once you tap the Save button, you can click on which Auto-Reply you would like to enable.
To make any edits, tap the three dots on the right or the pencil icon.
From the Settings page, you can view which Auto-Reply you're currently using
When you receive a message with Auto-Reply turned on, it will be displayed in your inbox to verify it went through successfully.
You can also delete a custom auto-reply at any time by:
Clicking on the pencil icon or three dots to the right of the custom reply
Scroll down to the bottom and click "Delete Auto-Reply"
If you need further assistance, please submit a request.