Note: These instructions are specifically for iOS users who have a 'Team Number' account but are the only ones using it currently (and thus have no use for a team account.)
Team Number accounts cannot upgrade to Sideline Pro due to compatibility issues. However, if you are the only person on your 'Team Number' account and wish to upgrade to Sideline Pro, please follow the instructions below.
Step 1: Remove yourself from the Team
Sideline Settings
Tap 'Team Number'
Swipe left on your name to delete
Step 2: Choose to keep or change your Sideline number
After you delete your name from the account, you'll be presented with a pop-up containing two options relating to your current Sideline number:
Tap 'Cancel' at this point if you wish to keep your Team Number account and forego upgrading to Sideline Pro at this time.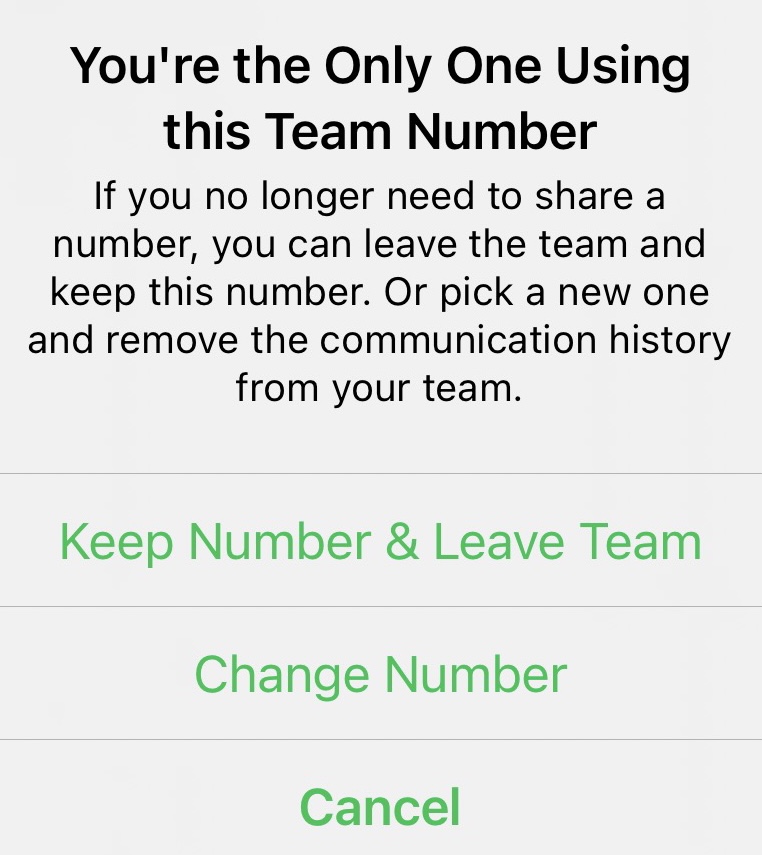 Please Note: Call and message history will remain on the account if you keep your number (option 1) and erased if you choose a new number (option 2) with no abiity to retrieve once deleted.
Option 1: Keep Number & Leave Team
This option allows you to keep your Sideline number after you are removed from the Team Number account. If you prefer to keep your current number when you move to a Pro account, follow the steps below.
After you've deleted yourself from your team account:
Tap 'Keep Number & Leave Team'
Tap 'Sideline Pro' with the green 'Discover' button (found in settings)
Tap the 'Upgrade at No Extra Cost' button
Choose your desired subscription length under the 'Pro' section (monthly or yearly option)
Tap 'Subscribe'
FYI: The process above is classified as an upgrade to your existing subscription (and not as a separate/new subscription)
Option 2: Change Sideline Number
This option is available if you want to start fresh with a new Sideline number after moving to a Pro account. If you prefer to choose a new number, you'll be prompted to do so upon log in.
After you've deleted yourself from your team account:
Choose 'Change Number'
Tap 'Log In'
Choose a new number (starting with the area code)
Tap 'Search Available Numbers'
Once you've chosen your desired number, tap 'Choose this number'
Enter your iPhone number and your current Sideline password
Tap 'Confirm Account'
Note: As stated above, call and message history will be erased from your account if you choose to change your number per the steps above. Neither you nor Pinger will be able to retrieve them.
If you have further questions in regards to this process, please submit a request and we'll gladly assist you.