IF YOU ARE RECEIVING HARASSING OR THREATENING TEXTS OR CALLS, AND YOU BELIEVE YOU ARE IN PHYSICAL DANGER, CONTACT YOUR LOCAL LAW ENFORCEMENT IMMEDIATELY.
Important: If you are receiving harassing or threatening messages in a group conversation, please reach out to support team and we can further assist you since blocking of group messages is not available via the app at this time.
Using our services for abusive behavior is explicitly against our terms and conditions. Anyone caught harassing or threatening others will have their account disabled immediately.
If any Sideline users are abusing our service, please inform us.
If you're a Sideliner user and would like to block a number:
Take a screenshot of the offending text message(s)/calls prior to following the additional steps. Once you block a user, the entire conversation will be removed from your inbox and you will not be able to retrieve those deleted messages
Set the block from your Inbox
Swipe from right to left over the conversation in the inbox, and tap Block.
Once you tap Block, a new message will pop up confirming that you want to block this number from calling or texting you. Tap Block, and you'll have successfully blocked this number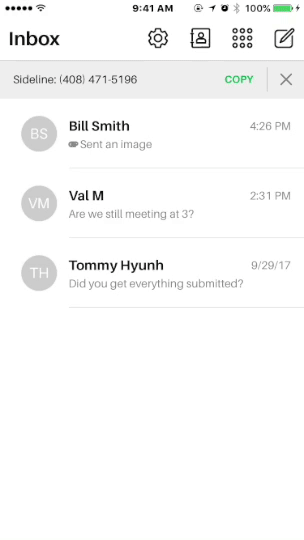 If you are NOT using our services, and you'd like to block a Sideline number:
Take a screenshot of the offending text message(s)/calls, prior to following the additional steps
Text STOP to the number you wish to block. Do not include anything else in this message (be sure to remove any signature in the message)
We will auto-reply back to you with a message asking you to confirm. Once you confirm, this will completely block this user from sending messages to you. They will be unaware that you've set a block against them
You can lift a block at any time by sending a message to the number/contact you've blocked.
If you don't remember the number you've blocked, please reach out to our support team by submitting a request and include your Sideline number and the approximate date and time you set the block.