Note:
Sideline Web only supports Standard, Enterprise, & Pro accounts (please see the
limitations
with Pro and Web). Team number accounts
cannot
access or use Sideline Web at this time.
Sending and receiving messages through the Web is simple with Sideline Web Messaging. Many of our users find a benefit with online texting as it is an easy way to communicate with their colleagues.
What's included in this article:
To use this feature:
Download and create a Sideline account via your app store (click for download link)

You need a cell phone number to register for an account, which you will use for logging into Sideline Web.

Use your login credentials to sign in via the Web.
Don't have a cellphone number? You may be interested in our other application TextFree that uses your email for Web-based texting.
Tip:
If you forgot your password, c
lick the Trouble Logging In? button on the Web version to have a reset link sent to your registered phone number and/or email.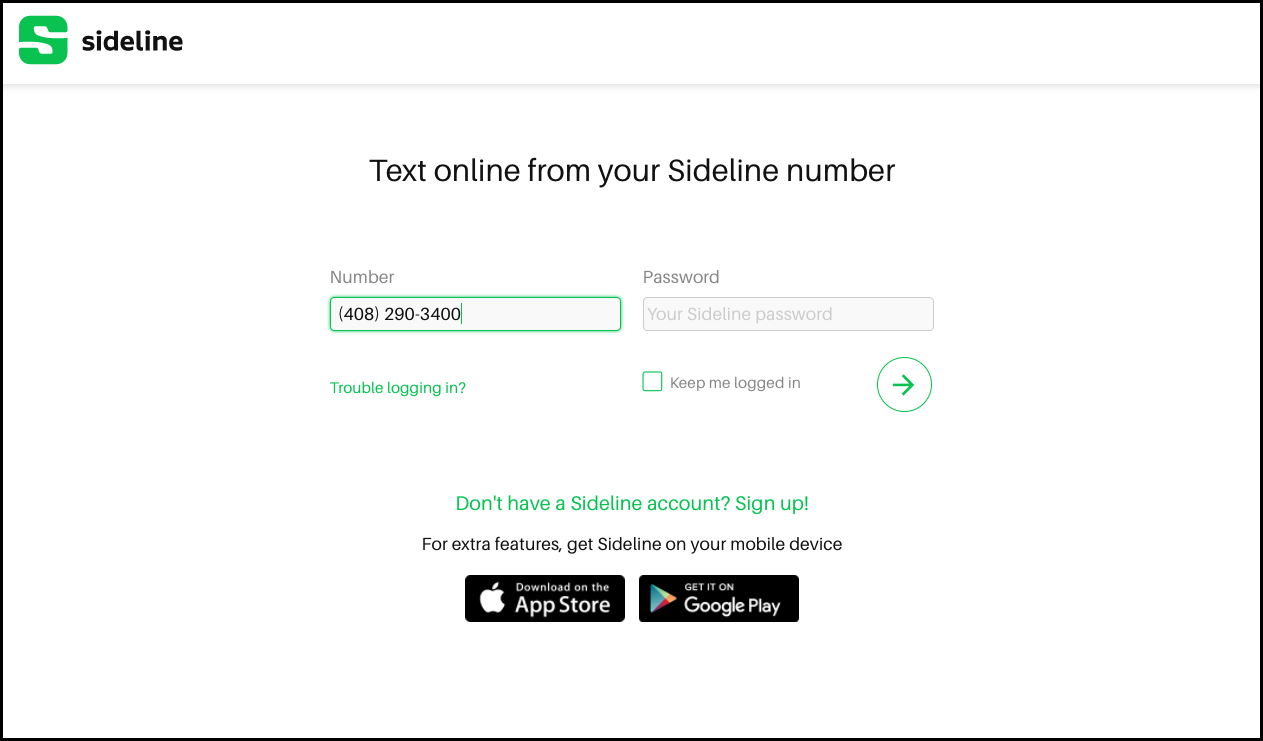 Once you're logged in, you will be taken straight to your inbox.
Tip:
Refreshing your inbox is good to do from time to time to ensure you're up-to-date on messages. Click the arrow icon

to the right of the Sideline logo at the top of the screen to refresh.
To start a new message:
Tap the pencil/paper icon on the right of the inbox
Type your message into the text field
Press the green arrow or click enter to send
To continue with an existing conversation:
Tap on the contact you'd like to chat with
Follow steps 2-3 above to send a message
Tip: To send a message that has multiple paragraphs (pictured below), hold down 'SHIFT' and press enter and you'll be dropped down to the next line. If you wish to add additional spaces in the message, continue to hold 'SHIFT' and press enter again, etc.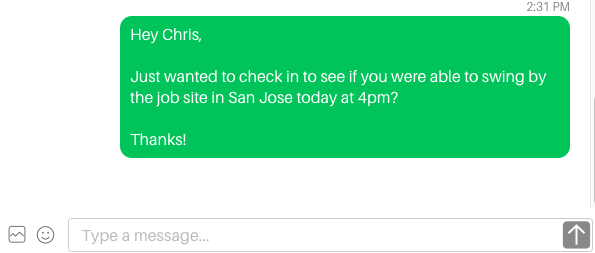 The arrow to the right of the contact name/number will allow you to do any of the following to the conversation (as pictured below):

Rename (does not apply for group messages)
Set text tone
Delete Conversation
Block number (does not apply for group messages)
Please Note: You will not be able to place or receive calls through the website. However, you will be able to see any missed calls and listen to your voicemail messages to help you stay connected.
Deleting communications in Web
You cannot delete individual messages, calls, or voicemails within a conversation while using Sideline Web, you only have the ability to delete an entire conversation.
If you wish to remove certain message(s) from Sideline Web, you will need to delete them from the app.
Important:
Deleting messages/conversations/voicemails is a

permanent action. They cannot be recovered by you or Sideline once they have been deleted.
If you delete message(s) on Sideline mobile, they will also be deleted in Sideline Web.

Tip 1: If your Web conversation contains the messages even after you've deleted them from the app, please

refresh your web browser.
Tip 2: If that doesn't work, try

clearing your browser's cache & cookies.
To delete a conversation in Sideline Web:
Locate the conversation in the inbox
Click the green triangle next to the name/number to drop down the list of options
Select

Delete Conversation
A pop-up will display to confirm the deletion > Click Delete
If you have any questions, please submit a request.