By default, the same payment method you used to purchase the subscription will be charged for renewals.
If you wish to update/change your payment method for upcoming renewals, please do so from within your app store account as all in-app purchases are handled in this manner. Sideline does not manage payment and billing information. Thank you for understanding.
Please choose your device below for instructions.
--Tab Names--
--Tab 1 Start--
To update your payment method via the Google Play Store:
On your Android device, open the Google Play Store .
At the top right, tap the profile icon.
Tap Payments & subscriptions > Payment methods

From there, you'll see what card(s) you have on file, along with other accepted Google Play methods.

To edit your current payment method, tap More options> Payment Settings.

These steps may vary by Android device.

If asked, sign in to Google Pay.
Under the payment method, tap Edit (or remove if you want to remove it and add a new card).
Make your changes, then Tap Update.
Android resources for additional information:
If you need further assistance or have any questions, please submit a request.
--Tab 1 End--
--Tab 2 Start--
To update your payment method via iTunes:
Note: We cannot update your payment method for Sideline, nor can you update it within the app. Apple strictly handles all in-app subscriptions and billing/payments. We're sorry for the inconvenience.
Instructions for the steps below can also be found in Apple's help site article here.
Device Settings.
Tap your name.
Tap Payment & Shipping. (you might be asked to sign in with your Apple ID)
Tap the payment method, then edit your information. (see below for details)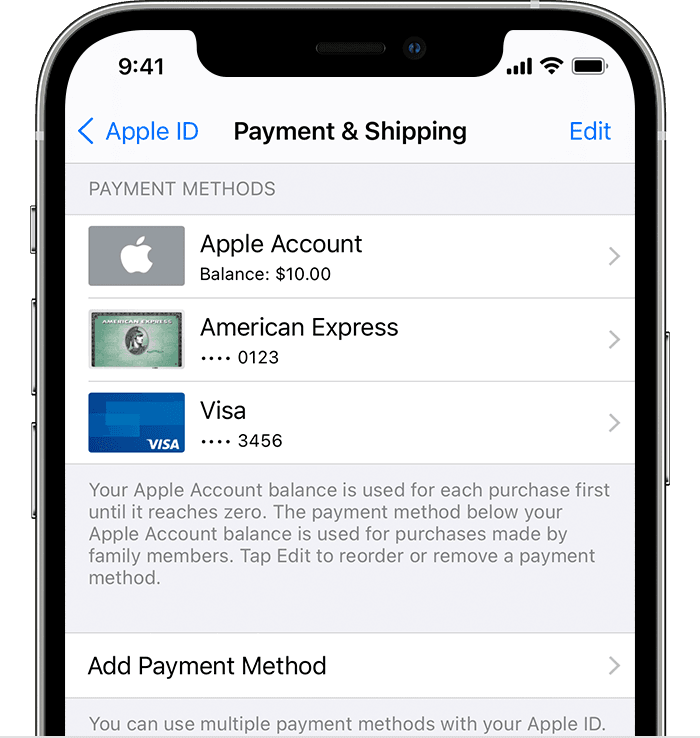 After step 4, you may need to enter the security code that's printed on your credit or debit card. If you see Apple Pay after the last 4 digits of the card number, go to the Wallet app to edit the card information.
Tip:
To add a new payment method, tap
Add Payment Method.
If your payment method is declined or has insufficient funds, your subscription may be canceled. If this happens, please visit our help site article Can I restore my old subscription pricing? for more info.
If you need further assistance or have any questions, please
submit a request.
--Tab 2 End--