This article is for help with setting-up auto-reply for calls within the Sideline app. If you need more information on auto-reply for iPhone, please visit Apple Support.
Don't have a Sideline account? Click below to download a 7-day free trial of Sideline.
When you're running around busy and can't answer the phone right away, you can enable an Auto-Reply message to let your callers know you've received their call and will be in touch with them shortly.
What is Auto-Reply for calls?
Auto-Reply is a feature within Sideline that will automatically respond to unanswered calls with a custom text response when you are unavailable.
This is beneficial because it lets your friends, family, and/or customers know that you've received their text and will get back to them shortly.
Please note: Your 'auto-reply to calls' message is automatically sent after each missed call. There is currently no option to reduce the frequency of the reply at this time.
To enable Auto-Reply for calls:
Sideline Settings

Tap on the '

Auto-Reply to Calls' (under features)
Toggle the setting so that it's green to start adding a Custom Reply
When you enable Auto-Reply for calls initially, it will be set to the default response, but you have the option to customize your responses (see below).
Note:
Auto-Reply to Calls will
not
work if you currently have your
calls forwarded
to Sideline.
To create a custom Auto-Reply:
Follow steps 1-3 above
Tap 'Add a Custom Reply'
Type in your Auto-Reply title, your text-response, and add a business logo (optional)

Note: You are allowed a maximum of 160 characters in your response

Tap 'Save' once you are satisfied with your custom response
Ensure the custom response displays a green checkmark (this shows that you currently have this response enabled with Auto-Reply to Calls)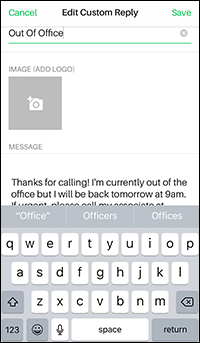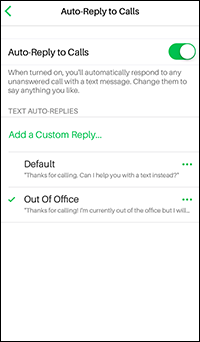 Please Note:
The auto-response will be displayed as a message within the conversations where you received an incoming text after Auto-Reply was enabled.
You will also see the title of the Auto-Reply in Sideline Settings to the right of the feature to show which custom response is currently set.
Deleting a custom Auto-Reply
Tap the three green dots to the right of the custom reply
Scroll and tap

'Delete'
Additional Resources:
If you need further assistance, please submit a request.