This article is for help with separating your Sideline voicemail from your device's personal voicemail within the Sideline app.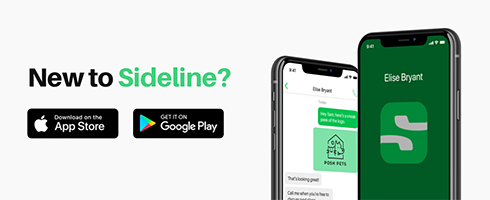 There may be times where your device's voicemail greeting will play briefly before your Sideline greeting when someone calls your Sideline number. This article will outline the steps you can take to prevent this from happening.
To keep your Sideline calls from routing to your personal voicemail, we suggest the following:
1. Enable Forward calls to voicemail
Anytime you receive a call to your Sideline number, the caller will be sent straight to the Sideline voicemail greeting you've set. To enable this feature:
Go to your Sideline Settings
Enable Send All Calls to Voicemail
Important: If you've turned off Forward Calls to Voicemail, and you're still not getting your calls, please check your device contact list and ensure that you haven't blocked the contact (iOS) "Incoming Sideline Call" or (Android) "Sideline Incoming Call"
2. Let the call ring through - Do not decline the call
When you're receiving a call to your Sideline number, your phone will show "Sideline - 14085551234" for example. Instead of declining the call, let it ring through to voicemail.
If you decline the call, it's possible your carrier will pick up the call, sending it to your primary voicemail instead.
3. Set your voicemail to pick up after 30 seconds
For AT&T and T-Mobile customers, you have the ability to set the time it takes for your native voicemail to pick up a call.
If you're noticing your native voicemail picking up calls intended for Sideline, follow the instructions below to set a time for 30 seconds:
Using the Phone app, enter *#61# and press the call button. (This will take you to a page that display's your voicemail number)
Write down or memorize the voicemail number displayed on this screen. Since we will be using it in the following steps. Once you have the number, press Dismiss
Using the Phone app, enter *61* followed by the Voice Call Forwarding number you took down in Step 2. It should look something like this *61*+
Now add *11 after your call forwarding number
Follow that by entering *(number of seconds you want users to wait before being sent to voicemail)then add #

30 is the max time and must be in increments of 5 seconds
The final entry should look something like this (seen below) for someone wanting the voicemail response time to be 30 seconds
*61*+12345678901*11*30#

After entering those numbers from Step 5, place the call by tapping Call. If you have done everything correctly, you'll see this:


Note: You cannot change the voicemail pickup time if you are a Verizon or Sprint customer. However, to be sure, you can always check with their customer service teams.
Verizon voicemail pickup time is preset to 30 seconds
Sprint voicemail pickup time is preset to 23 seconds
4. Enable "Call Announcement"
With Call Announcement enabled, anytime you receive a call to your Sideline number, an audio prompt will let you choose whether you want to answer the call (press 1) or send the call to your Sideline voicemail.
To enable Call Announcement:
Go to your Sideline Settings
Next to Call Announcement, tap the toggle green
Note: This should always prevent your incoming calls from hitting your device's voicemail.
If you have any further questions, please submit a request.