Voicemails in Sideline will appear right in your inbox!
If you have an ongoing conversation with a contact in your inbox, the voicemail will appear within that conversation thread. Once you enter the conversation with the voicemail, just tap on the play button to listen to the message!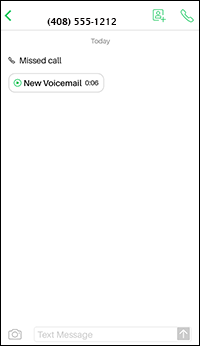 **Keep in mind, if you receive any other missed calls or messages after the voicemail, only the most recent activity will show on the inbox screen. You may need to enter the conversation to view all missed messages/voicemails/call events.
 To learn how to take your voicemail off speaker click here
If you're on the latest Android OS, and you can't set a custom voicemail, check your device settings to confirm that microphone permissions are enabled.
If you have any questions about your phone number or any of Sideline's other features, contact us! We'd love to help you out.