Note: Team Sharing (formerly known as Team Number) is no longer available for new Sideline subscribers but we will continue to support existing Team Sharing accounts. If you are a new customer and are interested in Sideline's Team Sharing plan, please subscribe to Index which includes Sideline's baseline Team Sharing features plus additional business tools. (Upgrade Instructions)
Issue Symptom
You are receiving the "You've Reached the Limit, To invite a new member, you need to remove members" error message (screenshot seen below).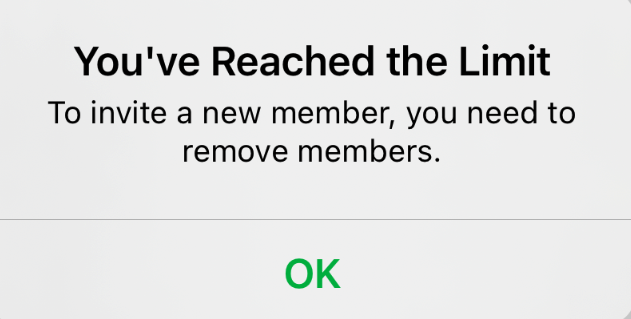 Conditions
You are trying to invite a new Team Member to your Team Sharing account.
Your account has at least 5 members already (this includes pending invites).
Cause & Resolution
New Team Sharing (formerly known as Team Number) accounts created after March 28, 2023, cannot add more than 5 members.
Existing accounts created prior to March 28th, 2023 are grandfathered into the current number they have on the team, however, they cannot invite more and are capped at the current number. 
Unfortunately, we do not have any current plans to enable Team Sharing accounts to have more than 5 users going forward. 
FYI:
If you need to remove a
pending invite
, please
contact Support
for assistance. This cannot be done via the app. 
If you have any questions please submit a request.