Sideline is more than just a 2nd number for your phone. It's a communication app that helps you work efficiently, connect with customers, and collaborate as a team.
Professionals choose Sideline for its unmatched reliability and feature-rich interface that separates work from life. It comes with all the calling, texting, and voicemail features you need to start, run, or grow your business.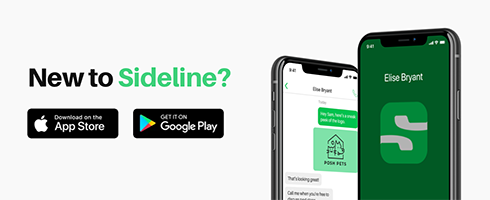 Click on the following links below to learn more about the benefits of Sideline:
Optional Upgrades
Sideline offers a variety of features on top of offering a 2nd number for your phone. As companies grow and need change, extra features and functionality can help sustain that growth with efficiency. Check out the paid upgrades below and click for more information.
Sideline Enterprise - Our company dashboard lets companies assign and manage multiple numbers for employees.

Auto-attendant (Enterprise account only) – Create a virtual receptionist to greet callers and forward them to the right person, place, or department. "Press 1 for sales, 2 for support, and 3 for Toby."

International calling– With over 165 countries supported, staying in touch with people all over the world is easy. Unlimited plans are a flat and affordable fee of $14.99 per line, per month.
Carrier Reliability
Unlike most calling apps that only work over Wi-Fi, Sideline uses your existing carrier network to connect calls. This means it works wherever your cell phone does and you can enjoy more reliable conversations. Learn More
Calls & Text
For plans with calling limitations, know that Sideline shares your carrier minutes. In other words, when you have Sideline, minutes get shared between your two phone numbers.
Custom Voicemail
You can record a separate voicemail greeting for your Sideline number. In your settings, just tap, "Voicemail Greeting," select "Custom," and "Record."
If you explicitly reject an incoming call, that caller may be sent to your native voicemail inbox. The best way to prevent this is to let Sideline calls ring all the way through. Learn More
Getting Around
Sideline's integrated inbox shows your texts, calls, and voicemails all from a single screen. Incoming calls ring on your phone like normal with a "Sideline" Caller ID. To make a call or send a text with your Sideline number, just open the app.
To access settings, tap the gear icon in the top left corner of your inbox. From there, you can set custom ringtones, record a voicemail greeting, and more.
Please note: Sideline is designed to be used as a second number for your mobile device and relies on your mobile service for managing communications. Therefore, you will need to use your Carrier cell phone number when registering for your account. Using a Voice over Internet Protocol (VoIP) number, or a number not associated with your device will result in the inability to register for an account and an inferior experience as Sideline is not designed for such a use case.
If you have further questions on how Sideline works, please browse the "Getting Started" category or submit a request.