Important for iPhone users:
 If you recently updated to 
iOS 17 (beta)
, you may experience issues with 
Sideline voicemails sending to your phone's voicemail
due to incompatibility issues with Apple's new "
Live Voicemail
" feature. We are aware of this issue and are working on a fix. As a temporary solution, please 
DISABLE Live Voicemail
in iPhone's settings. 
Settings > Phone > Live Voicemail
 > toggle switch to disable. 
Have you experienced an incoming Sideline call going to your cell number, rather than your Sideline number?
While we have systems in place to ensure this doesn't happen, there may be instances out of our control in which your incoming calls may be routed to your cell number instead of your Sideline number. These instances are outlined below:
If you decline an incoming Sideline call - avoid declining your incoming calls to your Sideline number. Instead, just simply let the call ring through or turn your "Forward Calls to Voicemail" on.
If you do not have cell service on your phone - if you know you're going to be in an area without cell service, try enabling "Call Announcement" or "Forward Calls to Voicemail."
If you have "do-not-disturb" turned on through your device Settings - if you need to avoid distractions during your day, we would suggest turning on "Forward Calls to Voicemail" to make sure any calls are still routed properly.
(iPhone users only) If you have "Silence Unknown Callers" enabled - this iPhone-specific setting will send ALL calls and voicemails to your device and not Sideline. To disable:

Open your iPhone Settings
Tap on "Phone"
Silence Unknown Callers
If you're experiencing any of these issues, please review the information below to help prevent calls from routing to your personal cell number: 
Enable "Forward Calls to Voicemail" 
This feature will route your incoming calls straight to your Sideline voicemail.
To enable/disable: Sideline Settings > tap or swipe to toggle on/off. 
Limitation: If you're part of Team Number, you do not have a "Forward Calls to Voicemail" option, but Call Announcement is always enabled which will help route calls.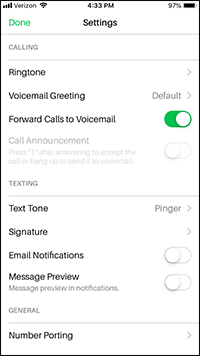 Enable "Call Announcement"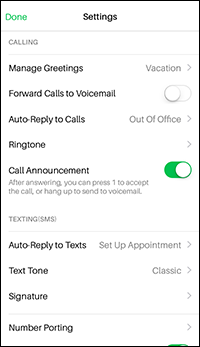 If you have further questions or need help troubleshooting after you have tested the above steps, please feel free to email us!