There are various ways you can place a call on Sideline 
1. FROM YOUR CONTACT LIST
To place a call from your contact list, tap on the Contacts icon along the top right side of the toolbar
To find a contact you can scroll through your list of contacts, or begin typing the name of who you'd like to call in the search bar. Once you have found your contact, tap on their name. The call will be placed automatically 
If you're calling a number that is not in your contact list, then you can tap the dial pad button at the top of your inbox screen
2. TAP AND HOLD A CONVERSATION IN THE INBOX
1. If you have an ongoing conversation that appears in your inbox, tap and hold on the conversation straight from the inbox to quickly place a call! 
3. FROM THE DIAL PAD
1. Entering into a conversation from your inbox, you'll see the call icon in the upper right corner of the screen.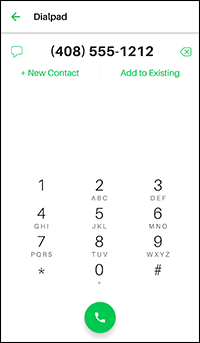 If you're wondering about international calling, click here  
If you have any questions about your calling, or any of Sideline's other features, please email us! We'd love to help you out.