Sideline allows you to port in a personal or business number, or you can port out your existing Sideline number.
Below you'll find some helpful information explaining what porting is, and the porting process in general:
What do I need to know?
What is Porting?
Porting is a fancy term for transferring a phone number from one service provider to another.
With Sideline, you can either port an existing number into Sideline (i.e. transferring a number from AT&T to Sideline), or if you leave, you can port your number out of Sideline (i.e. transferring your number out of Sideline and to Verizon).
Can I have multiple port-in/port-out requests active at one time?
Unfortunately, you can only have one Sideline number at a time.
Where can I check the status of my port-in/port-out request?
You can check the status of your porting request in the Settings page under Number Porting.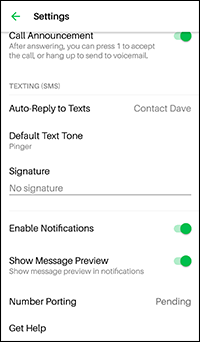 If there is an error with your port request, you will see the Needs Review and can contact support to update your port's rejection.
How will I know when the process is complete, and the outcome of my porting request?
Once the porting process is complete, Sideline will notify you a couple of ways:
Push Notification: You'll receive a quick notification letting you know everything is done, and the next steps to take based on the outcome of your request.
Email: If you've set up an email address on your Sideline account, we'll send you an email letting you know the porting process is complete and the next steps to take based on the outcome of your request.
Number Porting page: The Sideline App will let you know whether the porting request was successful or not.
What information do I need to have handy if I want to port a number?
The specific information you will need will depend on your carrier.
Porting a number in
Can I port my registered number into Sideline?
Unfortunately, you cannot port your registered number into Sideline.
Since your registered number, or the number you used to set up your Sideline Account, is how we connect all of your Sideline calls, you cannot have a number be your registered phone number, and your account phone number.
If I change my mind, can I cancel the porting process before it is completed?
Nope. Once the process of porting a number has started, you cannot cancel it.
You will have to wait until the process is completed, and then port it out, or port it back in depending on the original request you made.
If I port a number into Sideline, can it expire?
No. If you port your number into Sideline, you cannot lose that number. You own that number, and we promise we won't try and steal it from you :)
Should I cancel my service with my provider while I'm porting in my number?
No. You should make sure that you do not cancel your service while you're porting your number.
Canceling your service before your number has successfully transferred can result in you losing your phone number completely.
Porting a number out
Can I port a number out of Sideline that I didn't originally port-in?
It depends. Users with a Sideline subscription can port a number out that they did not originally port in. We also allow users to pay a one-time fee of $19.99 to unlock the number.
If I ported my number in, can I port it out too?
Yes. If you have successfully ported a number in, you can port it out at any time, free of charge.
Do I have to cancel my subscriptions if I port my number out?
Yes. If you were subscribed to the Sideline before porting your Sideline phone number out, you must manually cancel your subscription to avoid being charged.
Click here to learn how to cancel your subscription.
Now that you've checked out our Porting FAQs, check out our help site article, "Porting your number out of Sideline"
If you have further questions, please submit a request.