Note: Inbox search is available for iOS users only at this time.
As of Sideline app version 3.82, we've enabled the ability to search your message inbox. Now you can easily search through your text messages using keywords to locate the specific content you're looking for.
Here's how:
View your Inbox
Drag down from the top of your inbox to populate the search bar
Tap the search bar & enter keyword(s)*
Tap 'search' on your keyboard to filter results based on your search
A list of applicable messages that contain the keyword(s) from your search will display

Keyword(s) that directly relate to your search will be in bold
If the keyword(s) appear more than once in any individual conversation, it will be displayed as multiple results (which allows you to locate the exact message you're looking for)

Click into the conversation you want to view, and the exact message that correlates to your search will be displayed
Example
FYI: The example seen below is from a Sideline Pro user, and that's why you'll see "Broadcast" and "Shortcuts" in the inbox. Non-Pro users on iOS devices will be able to search just the same.
Let's say this Sideline Pro user wanted to search for the city to remember who had the appointment in San Jose. To do this, the Sideline user searched for "San Jose."
The results returned were from two different contacts, so the Pro user clicked on the top result "Chris" as this was a likely indication that the message was from a customer.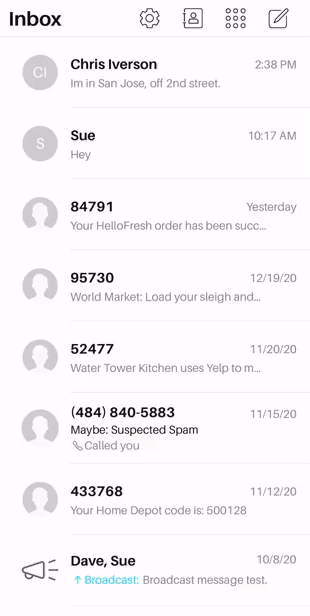 Note: If your keyword search is found in multiple messages, the results returned will be displayed in multiple lines in your results list.
Note: The results are displayed by date and time, with the most recent communication at the top of the results list.
Tips for using search:
Click the 'x' to clear the search bar or 'Cancel' to quit search altogether and return to your inbox
While viewing a message from the search result, you can tap 'Back' at any point to be taken back to your inbox where you can continue to look through other messages
Items to note:
Keyword search is not case-sensitive

*Can only be used to locate the message(s) you're searching for that contain the keywords,

not

as a way to locate the specific conversations from your contacts or phone numbers

Can be used to find voicemail transcripts - search can locate specific text through the 'voicemail-to-text' feature

While in the conversation, the message bubble that relates to your search is displayed in dark purple (indicating your message) and dark gray (recipients message) - as seen in the video above
If you have questions about the inbox search feature, please submit a request.