With Team Number, you can access calls and messages to stay connected to your colleagues and customers at all times.
However, there are some limitations to this feature. At this time, Sideline Web is not supported with Shared Number.
Although VoIP Calling is not available for Team Number users, we do offer other features that you may benefit from :)
Forwarding all calls to voicemail hasn't been included under Team Number yet, but we appreciate your patience and any feedback as we work on expanding this feature.
You cannot port a number in after switching to Team Number. We recommend porting your number in before you share it with your colleagues. 
Lastly, since Sideline does not permit multiple accounts at a time, you can only send invitations for Team Number to those who do not already have an existing account including Teams. 
You will receive the following error message if the person already has an account.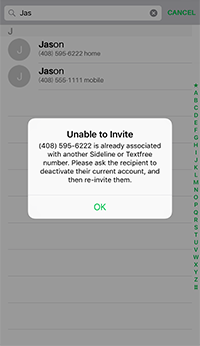 If you have any questions or concerns, please contact us and we'd be happy to help!