With many benefits of Team Number accounts, there are some restrictions that we want to highlight prior to signing up for a Team Number account.
Below, we cover exactly what Team Number is not compatible with.
Limitations of a Team Number Account:
Sideline Web is not supported
VoIP Calling is not available for Team Number users
'Forwarding all calls to voicemail' feature is not compatible
'Call Announcement' feature cannot be turned off
Not compatible with Enterprise accounts
Porting in your number is not an option after switching to Team Number

We recommend porting your number in before

you share it with your colleagues

Cannot invite persons who have an existing Sideline/TextFree/Pinger account

Please see below for additional information on how to resolve this barrier

Ineligible for upgrading to Sideline PRO
(#7) How will you know if the person you are sending the invite to has an existing account?
You will receive the following error message if the person already has an account:
"Unable to Invite" - (xxx)xxx-xxxx is already associated with another Sideline or TextFree number. Please ask the recipient to close their current account, and then re-invite them."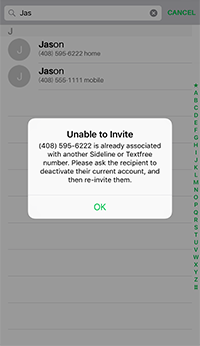 If the person you wish to invite has an

existing account

:
Sideline does not permit multiple accounts at a time, so you can only send invitations for Team Number to those who do not already have an existing account including Teams.
What to do if they have an existing account:
Have the person you invited close their account
Re-send the invite
Have the person accept the invite
For more information, please see this help site article: How to send & accept a Team Number Invitation.
If you have any questions or concerns, please submit a request.