Have you received one of the following error messages below in Sideline?
"Whoops! Although Sideline uses your carrier network for calls, data is still needed for general functionality. Please reconnect and try again."
"Whoops! Sorry - something didn't go through! Please check your network connection, then try again"

"Sorry, something didn't go through. If the problem persists, please contact support."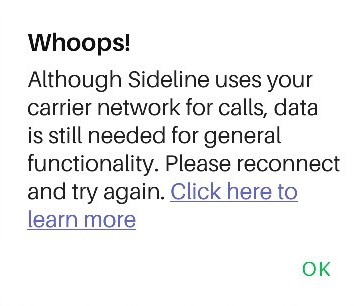 If so, please click the link below to begin to troubleshoot why you're receiving a network error message in Sideline.
If you are still experiencing the error message after troubleshooting, please submit a request.